Did you know that having courageous conversations at work is one of the best ways to create an actually authentic culture of inclusion and belonging?
It's true.
Just take it from Forbes: "One of the best ways to build trust, develop your team and work through concerns over diversity and/or equity is to have rich, meaningful and authentic conversations with your team." (Forbes)
It doesn't stop there. Employees truly want more conversations about DEI in the workplace.
A study from Edelman showed that an epic 65 percent of employees expect company leaders to inform and shape conversations about issues in the workplace. Whew!
Here are ten reasons why courageous conversations should be central to your DEI program in 2023.
#1: Courageous conversations allow diverse perspectives to be heard and valued
We are all different. Which is wonderful, as this means we all bring something unique to the table.
Courageous conversations are an effective tool to give everyone a voice (including the introverts!). And when you give everyone a voice, people are more likely to truly listen — which is crucial to the creation of a culture of belonging.

Also, conversations that allow diverse perspectives to be heard and valued strengthen employee morale and lead to greater innovation.
Research from Deloitte backs that up with 74% of their millennial employees believing that their organization is more innovative when it has a culture of inclusion. How eye-opening is that?
"Each of the issues that are part of DEI efforts are deeply personal, making it all the more important to create a welcoming environment where employees feel empowered to share their perspectives and experiences."(Forbes)
#2: Courageous conversations help create psychologically safe workplaces
Can you guess what the #1 component of a successful team is? According to Google (who conducted an extensive three year study on effective teams) it's psychological safety. Or, in other words when team members feel confident to speak up, share their ideas and contribute their full set of talents and abilities to their work without fear of being embarrassed or reprimanded.
You may be thinking, "How is it created?"
We're here to tell you.
One of the best ways leaders can create psychological safety in their organization is by providing the space for teams to have meaningful dialogue on issues that matter. Aka, courageous conversations. Conversations which provide space for people to show up as their whole, authentic selves and share their lived experiences and perspectives.
"It's no longer enough to simply provide the operational tools and resources for your team to function — you also need to create psychological safety for them to thrive. That means getting comfortable with having uncomfortable conversations." (HBR)
#3: Courageous conversations take a human-centric approach
As an essential DEI initiative, courageous conversations are not about the numbers, box-ticking or form filling — what they're really about is people.
It's human nature to want to belong and be a part of a group. Just look at Maslow's Hierarchy of Needs where belonging comes right after our need for food, water and security.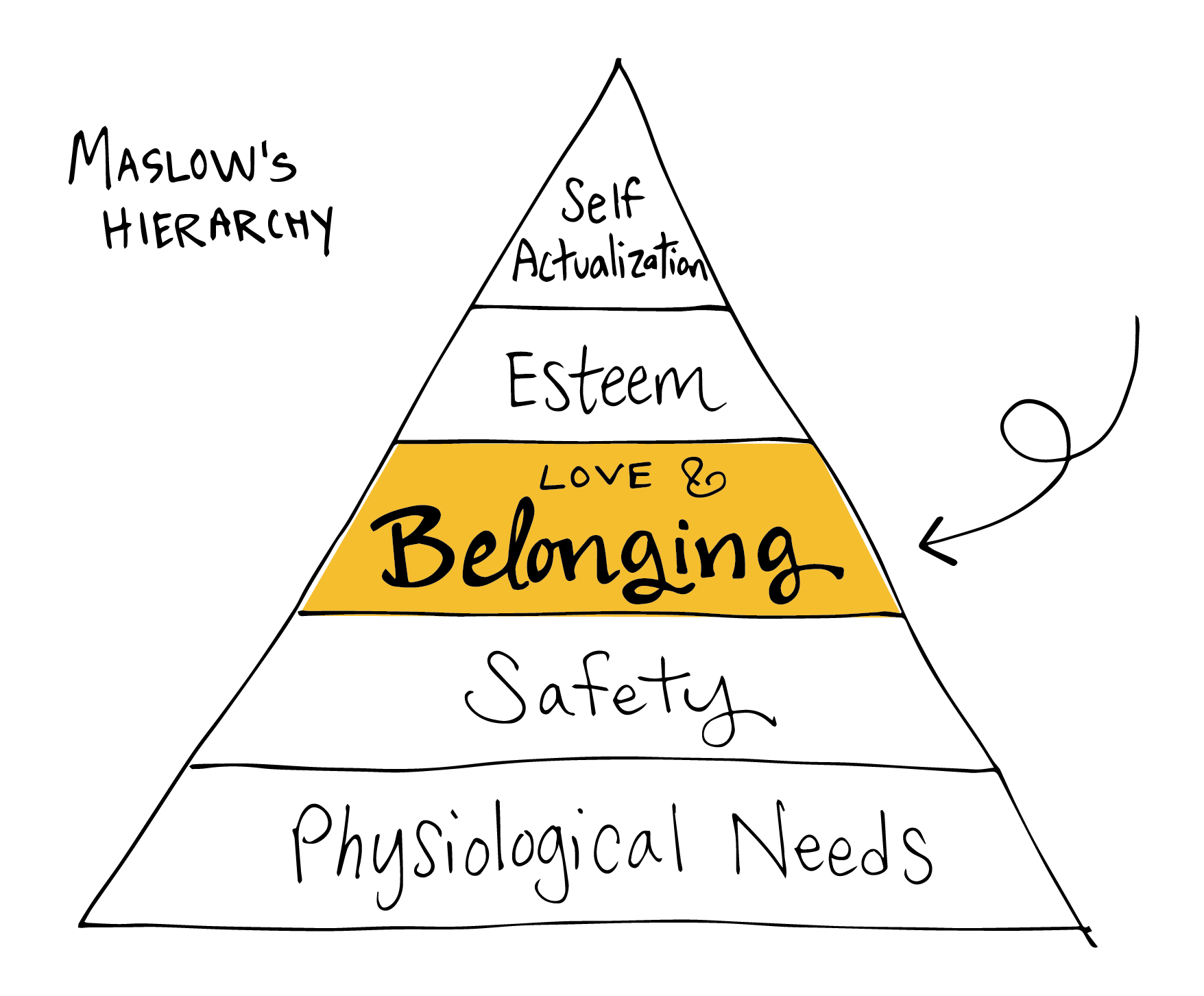 The authenticity of workplace courageous conversations comes from centering the voices, perspectives and experiences of the actual people in your organization.
"Stories invite perspective-taking: the concept of standing in someone else's shoes and imagining what it's like to be them. It's a drastically underutilized inclusion tool." (HBR)
#4: Courageous conversations foster meaningful connections
Conversation is the foundation of any relationship. They are the vehicle through which we strengthen connection. When we express vulnerability and share our stories we are able to establish trust and connect on a deeper level to each other and ourselves.
"The sooner we bring [vulnerability] into our cultures, the sooner we'll see how much we have in common, and the more we will connect and see our whole selves." (Forbes)
#5: Courageous conversations are 10x more effective than training alone
Standard top-down DEI training is important, but on its own it's not enough.

Traditional training focuses on a one-to-many approach, which doesn't stimulate the emotional side of the brain in the same way conversations do. Nor does it generate the empathy and EQ we develop when we hear real stories from people that we know.
Studies have shown that courageous conversations are 10x more effective at creating behavior change than training alone, making them an important part of any DEI program.
"When we listen and celebrate what is both common and different, we become a wiser, more inclusive, and better organization." — Pat Wadors, Chief People Officer at UKG
#6: Courageous conversations are necessary for growth and change
The conversation that you are uncomfortable having is likely the very conversation that you need to have. It is through moments of discomfort where we are able to learn, grow and adapt.
"When it comes to difficult conversations, pushing through the awkwardness can help get us to a more inclusive, and ultimately more comfortable place." (Forbes)
#7: Courageous conversations raise awareness and EQ on DEI
Courageous conversations are an effective way to ensure your diverse workforce feels included, heard and valued. Having these conversations in the workplace allows you to create space for teams to ask and answer thought-provoking questions about diversity while also learning how to talk about diversity in respectful ways.
A study from Gallup found that only 42% of managers feel prepared to have conversations about race with their employees. Oh my!
That's where courageous conversations step in.
Through these conversations your team members will gain the confidence to talk about essential DEI issues in a productive way, and no longer be afraid of saying the wrong thing.
"HR's new, difficult conversations about power, courage, accountability and vulnerability can lay the foundation for a new, fully human culture at work." (Forbes)
#8: Courageous conversations develop empathy and understanding
Stories are the best tool we have for understanding each other.
They humanize us.
And they help us understand situations from another person's perspective. When we can empathize with someone's situation, we're able to connect on a much deeper level.
The path to a diverse and inclusive workplace is paved by understanding and empathy. While people within certain groups may not be able to directly relate to others, having an understanding of their experiences and mindset can provide the insight they need that leads to lasting culture change.
"Genuine empathy requires that we listen, understand and feel what is happening so that we can create a targeted solution." — Whitney Goodman, Therapist and Author
#9: Courageous conversations contribute to greater allyship
Courageous conversations help build a culture of allyship that supports colleagues advocating for, and uplifting one another.
When you talk to your employees with genuine interest, you show that you care about who they are as individuals and the value they bring to your organization. You learn more about their ideas, goals, strengths, and experiences. And you find out ways to advocate for them as an ally.
"Changing the day-to-day experiences of people in the workplace means you have to change the culture. If you're going to change the culture, that means you need all employees at every level to activate and to be part of the solution," says Rachel Thomas, Co-Founder & CEO of LeanIn and OptionB.
#10: Courageous conversations are a tool for transformation
Courageous conversations have the potential to connect your heart and mind to the systems and challenges that impact those around you. This enhanced connectedness alters your perspectives and creates positive culture change.
"Asking deeper questions, listening more intently and creating shared understanding through conversation is a powerful conduit for transformation." (WEFORUM)
We could keep going...
Courageous conversations are powerful. With each conversation, we move closer towards a truly inclusive world full of empathy, understanding and connection.
Are you ready to ignite change one conversation at a time?
Book a meeting with one of our team members to start planning your next courageous conversation in 2023. And check out our Inclusion and Belonging Membership Journey that provides an equitable experience for employees to feel heard and valued, leading to lasting culture change. Let's embrace the power of meaningful conversations to create even greater inclusion and allyship.
Further Reading: