FACILITATOR TRAINING
A facilitator training founded on empathy
Facilitating a conversation on a difficult topic can be uncomfortable. The Inclusivv Facilitator Training is designed to give you the skills, resources and techniques you need to lead courageous conversations with empathy.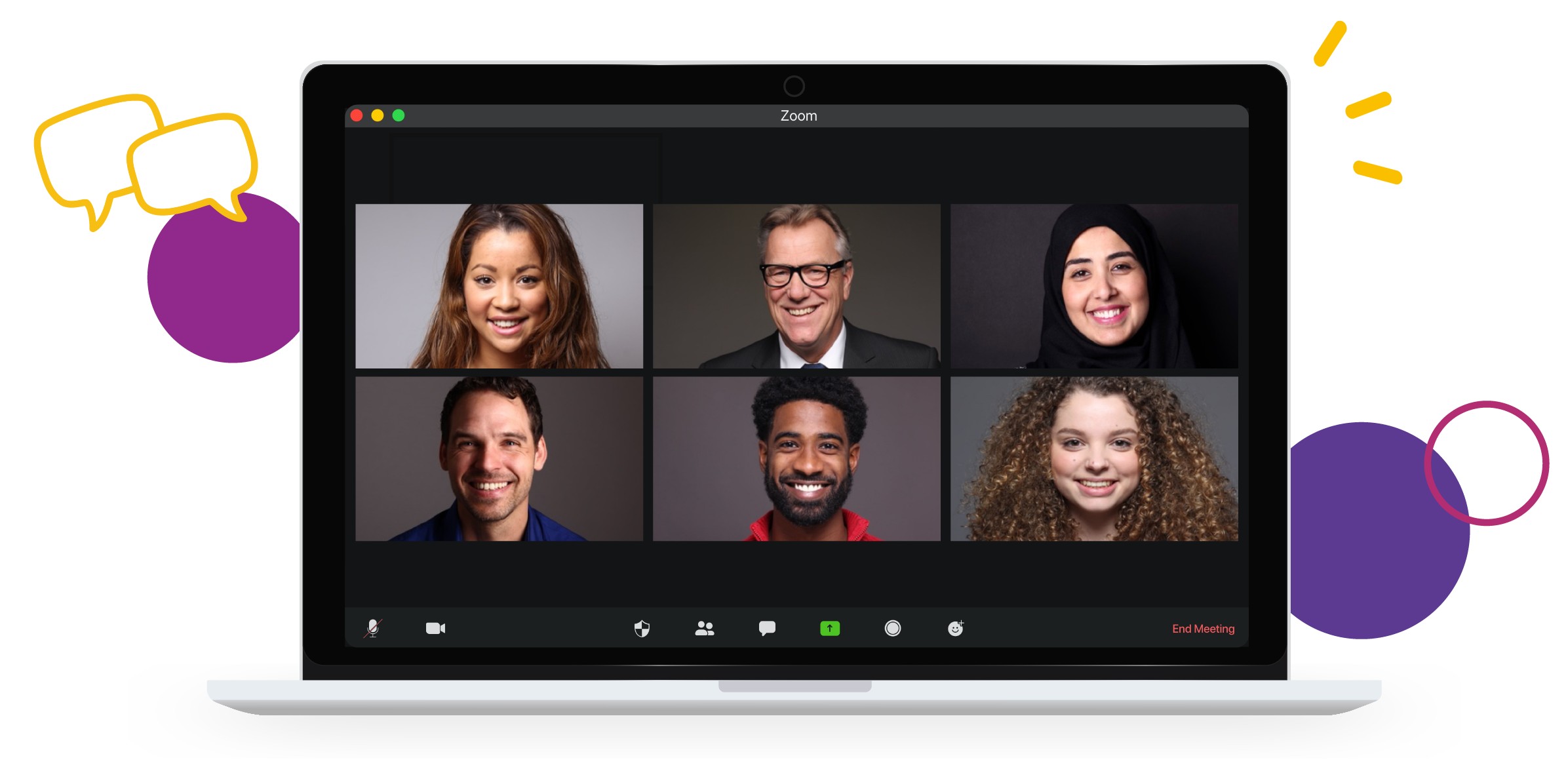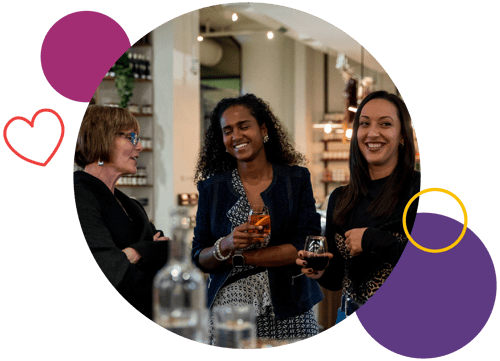 Why people love this facilitator training
Learn how to build trust and human connection by embracing diverse perspectives across differences.
Gain the confidence to foster meaningful dialogue with respect and understanding and learn de-escalation techniques.
Develop leadership skills
Strengthen your leadership skills by learning how to actively listen, create psychological safety and engage with empathy.
Build an inclusive culture
Enhance your emotional intelligence and create a higher sense of belonging by embracing authenticity and vulnerability.
"The Facilitator Training was greatly appreciated by our Inclusivv hosts. They learned practical tips on how to encourage participants to engage with each other and make these conversations memorable connection moments."
"The Inclusivv Facilitator Training gave me the words to use to navigate conflict while facilitating any kind of discussion. As an event host, I feel 100% more confident simply adding this tool to my skill set. Thank you, Inclusivv!"
LEARNING OBJECTIVES
Everyone can learn the skills and mindsets to lead conversations
After completing the training, you will be able to:
---
Host courageous conversations with confidence, regardless of the topic
Effectively apply facilitation techniques and methods to any conversation
Promote curiosity, shared learning and critical thinking
Learn what to do in certain situations and how to respond or intervene
Respond and communicate with others with empathy and respect
Appreciate perspectives from those who hold different views
Encourage reflection and commitment to action on important issues
Cultivate creativity, trust and well-being of a group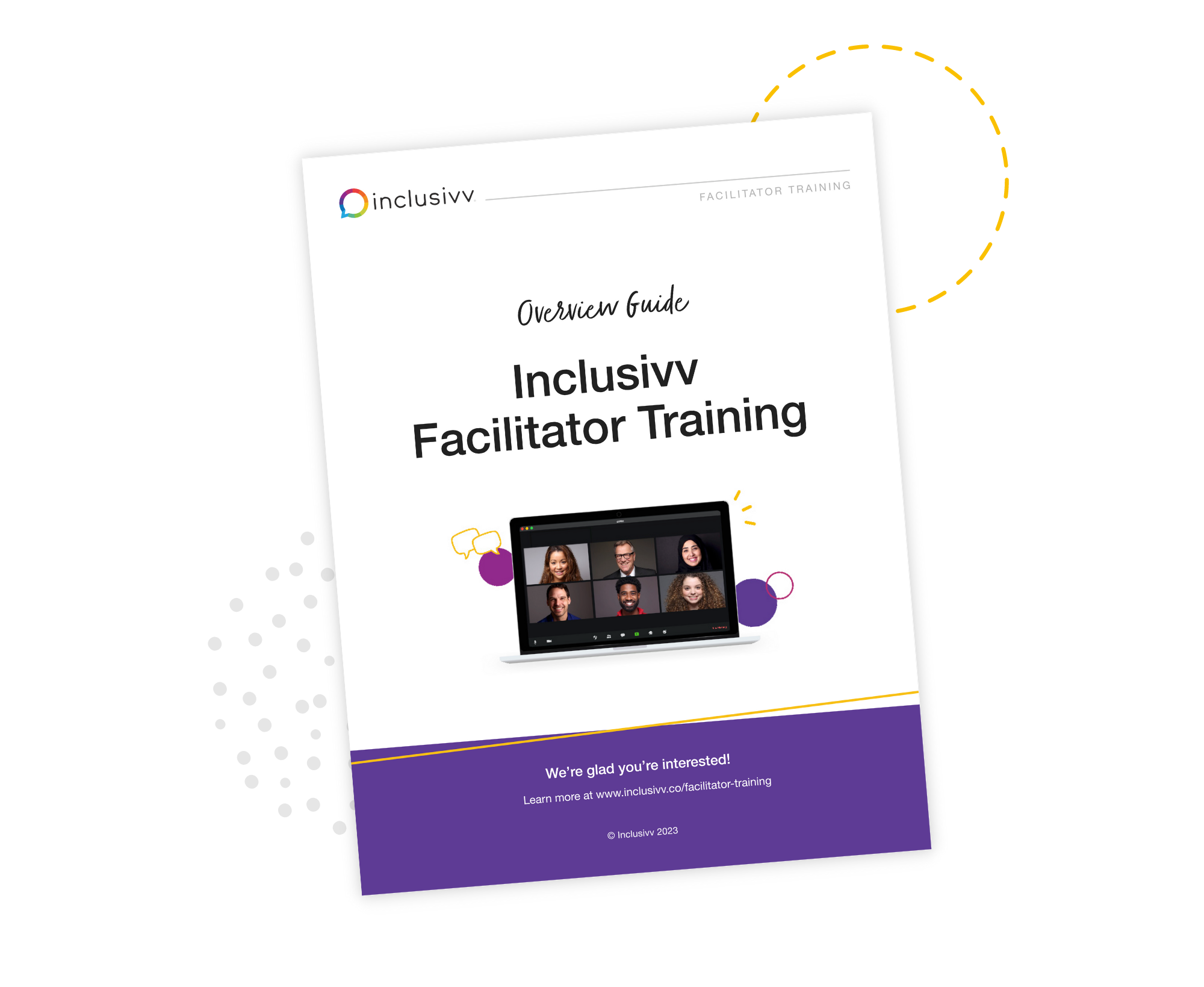 How is the training structured?
Inclusivv Facilitator Training will change the way you think about and approach facilitation, just like it has for Showpad, Cisco, Ameris Bank and so many more.
Pricing
Choose from our individual or team packages.
Individual Facilitator Training
for initial training and tools to practice for 1 year
Learn the art of facilitating courageous conversations with access to the content and tools you need to lead your own.
---
Team Facilitator Training
for initial training and tools to practice for 1 year
Build the confidence and skills of the leaders in your organization to facilitate courageous conversations at scale.
---
What do you get from the training?
Enhance your ability to lead by mastering the art of facilitation.
FACILITATION SKILLS
A 90-minute training with an expert facilitator who will guide you through the art of facilitation
FACILITATOR GUIDE
A guide to the art of facilitation, packed with practical tips to help you facilitate with empathy
FACILITATOR RESOURCES
A full year of access to additional facilitator resources, including special trainings
ASK ME ANYTHING SESSIONS
Monthly ask-me-anything sessions where you can get your questions answered by an expert
Want to learn more about Facilitator Training?
Feel free to fill out the form below to schedule a demo with us, so we can give you the full walkthrough.