THE INCLUSIVV MEMBERSHIP
Get instant access to monthly courageous conversations
Our membership brings people together for courageous conversations in an inclusive format that builds connection and sparks behavior change.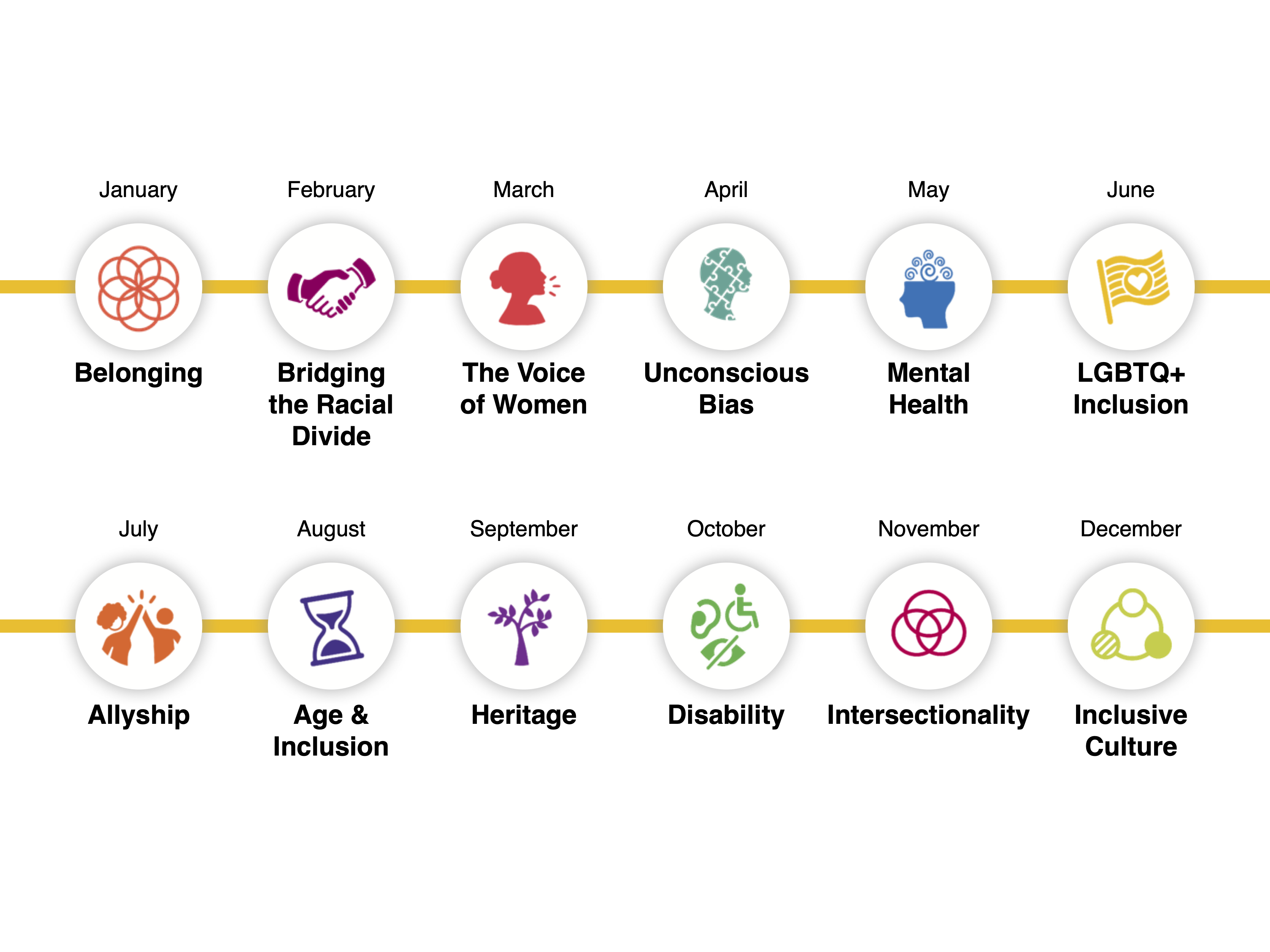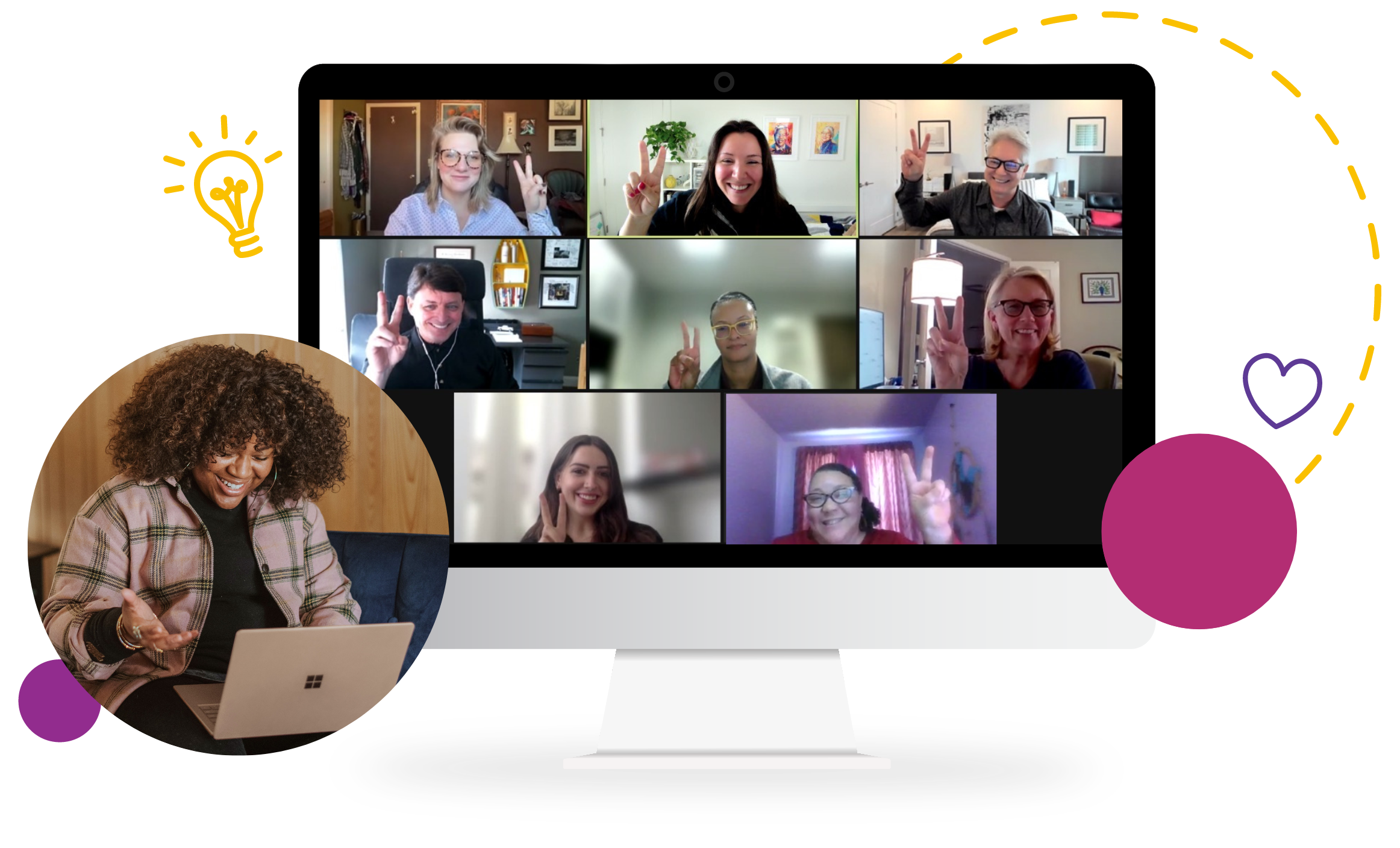 Members connect with other Inclusivv members outside of their organization which is great for mentorship and networking.
Members get access to 12 topics per year with some special guest speakers that are experts on the subject matter.
Members are sent curated resources each month such as articles and videos to review on their own time.
Making time for conversation where everyone feels heard and valued for their perspectives and stories.
Members receive monthly curated resources on each topic and invitations to join conversations.
DEI leaders have enough on their plate. Let Inclusivv do all the work and simply upload a list of emails.
The membership is currently just $60 per member per year, paid annually.
Our quarterly reports showcase engagement and overall activity to make ROI reporting easy.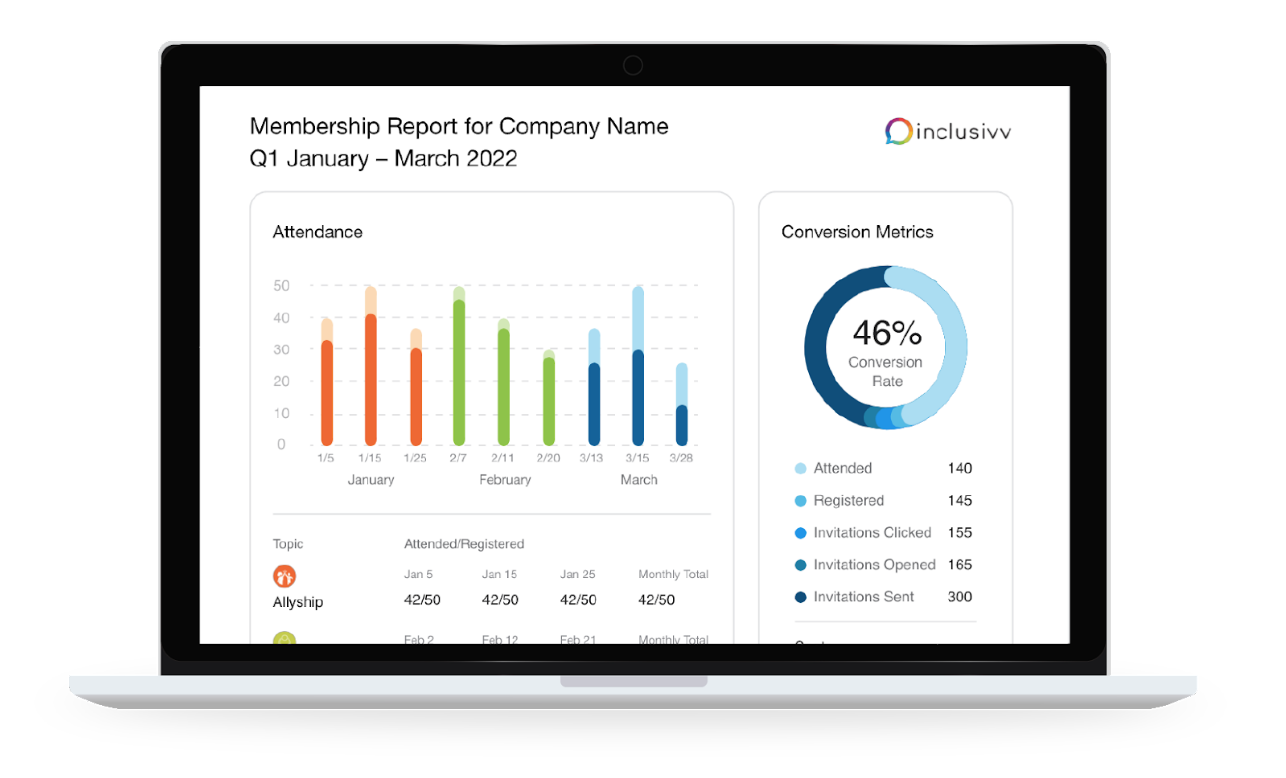 Individual Membership Pricing
Individual Membership
Engage in monthly courageous conversations within a community and expand your perspective.
---
How it works
Once you sign up yourself, your team or your whole company, you'll be able to access all 12 topics as part of the Inclusion and Belonging Journey.
All registered members receive curated learning resources each month a on specific topic and an invitation to attend an online conversation hosted by Inclusivv.

Each month members can join a 60-minute or 90-minute online experience where they'll engage in dialogue in small groups and leave with new perspectives, connections and actions.

After each conversation members will have the opportunity to connect with others, reflect on learnings, commit to actions, and register for the next conversation.
Team admins have backend access to view activity by individual including registration, attendance, actions and reflections. Collective insights are provided quarterly and always accessible.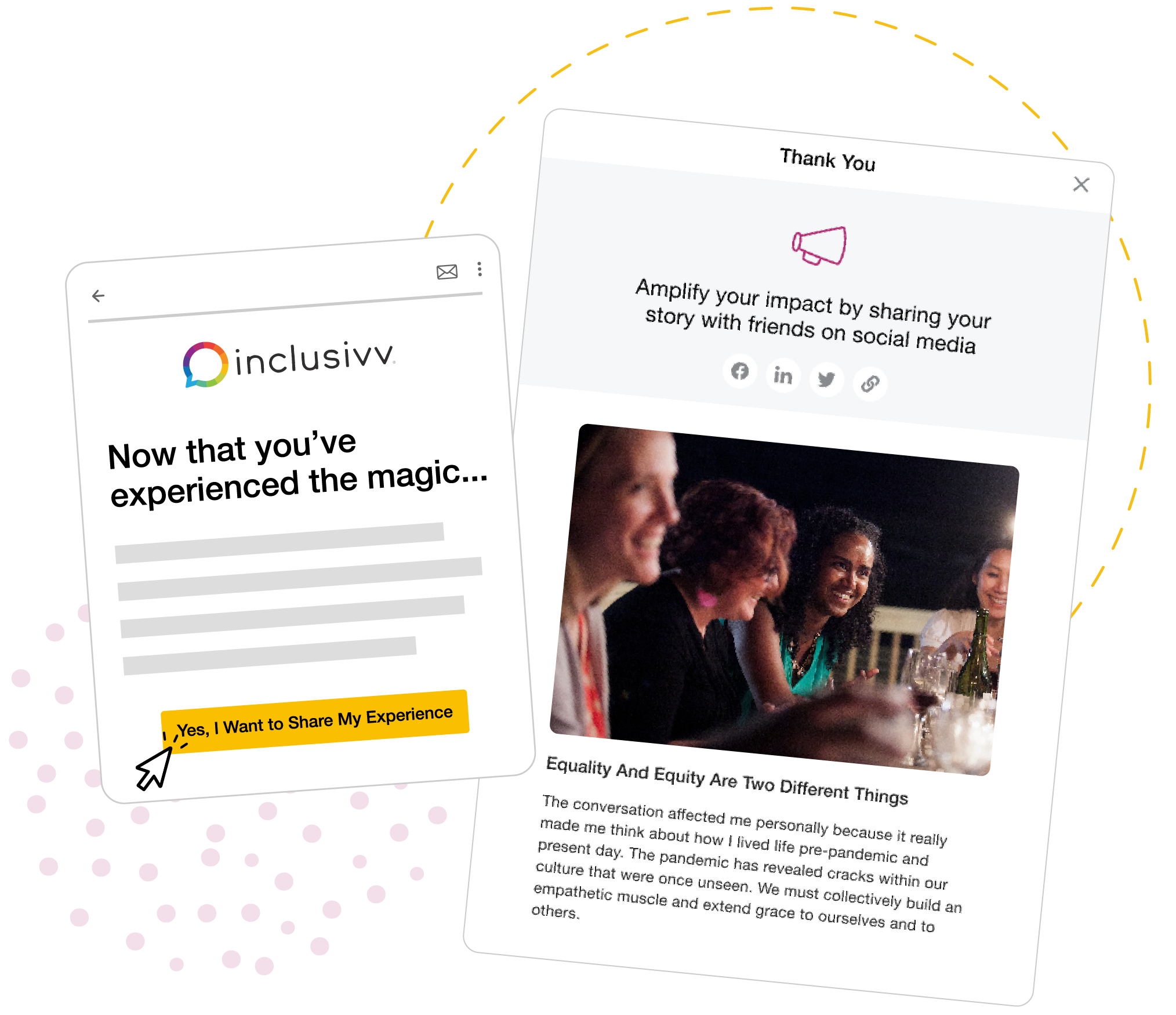 Topics in the Inclusion and Belonging Journey
JANUARY

Belonging
A conversation about belonging, and how we can come together to create a more welcoming world for all.
FEBRUARY

Bridging the Racial Divide
A conversation about how we can come together to bridge the racial divide and build the Beloved Community.
MARCH
The Voice of Women
A conversation exploring women's rights, power and equality.
APRIL

Unconscious Bias
A conversation about bias in society, and how together we can help counteract bias and level the playing field.
MAY

Mental Health
A conversation about mental health and how we break the silence.
JUNE

LGBTQ+ Inclusion
A conversation about how we can come together to champion true LGBTQ+ inclusion.
JULY

Allyship
What is an ally? Why do we need them? And how can allies help build a more inclusive culture?
AUGUST

Age and Inclusion
A conversation exploring the value all ages bring to the table.
SEPTEMBER

Heritage
A conversation celebrating heritage, and how our differences enrich our communities.
OCTOBER

Disability
A conversation about disability and how we can work together to create a more inclusive and accessible world.
NOVEMBER

Intersectionality
A conversation about intersectionality. What it is, and how it affects our lives and affects others.
DECEMBER

Inclusive Culture
A conversation about how we can come together to celebrate our diversity and create a truly inclusive America.
What Inclusivv Members are saying
"This is a good method for awareness and an opportunity to open your heart and raise your opinion."
"Thought-provoking conversation that showed the power of behavior change comes from being agents of change ourselves."
"This was a very powerful experience and I'm grateful to Goodwill for providing this opportunity."
Want to build your own private journey?
The Inclusivv platform is highly flexible and we can work with you to design a custom journey specifically for your organization. Let's connect.