Experience the power of shared dialogue
Our platform empowers people to engage in meaningful conversations that have the ability to spark real and lasting change.
"Shared dialogue is one of the best tools we have for creating inclusion. By giving everyone a voice, we build belonging while fostering empathy and social cohesion."
— The World Economic Forum —
Our unique framework
An experience that brings every voice to the table.

Designed to include everyone
The power of structured conversation is undeniable for organizations and communities of any size.
With measurable impact
Inclusivv conversations have been proven to shift leading indicators of belonging and inclusion.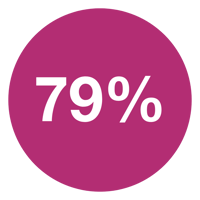 of attendees strongly agree they learned new perspectives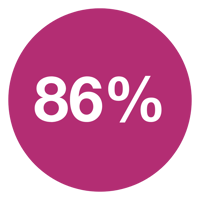 of attendees strongly agree they felt more connected to others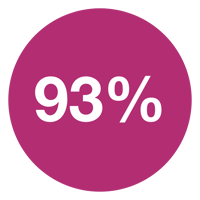 of attendees strongly agree they felt heard and valued
Inclusivv delivers a conversation experience that is
10 times

more effective than training alone.

It's time to be Inclusivv
Our conversation platform helps organizations like these create lasting behavior change.
Heritage
In celebration of Hispanic Heritage Month, we are featuring our Heritage conversation about how we can ensure our workplace is welcoming to cultural identities, beliefs and backgrounds of all kinds.
LGBTQ+ Inclusion
In celebration of LGBT History Month, we are featuring our LGBTQ+ Inclusion conversation about how we can come together to champion true LGBTQ+ inclusion everywhere.
Mental Health
In honor of World Mental Health Day on October 10, we are featuring our Mental Health conversation about how we can break the silence around mental health.
Disability
In honor of National Disability Employment Awareness Month, we are featuring our Disability conversation about how we can work together to create a more accessible and inclusive world.
Let's get started
Explore our options below to see which one is right for you (and your team).
MOST POPULAR
Inclusivv Membership
Provides individuals, teams and organizations access to a shared learning journey. Consisting of curated learning resources, a 90-minute monthly conversation, and suggested actions to engage commitment.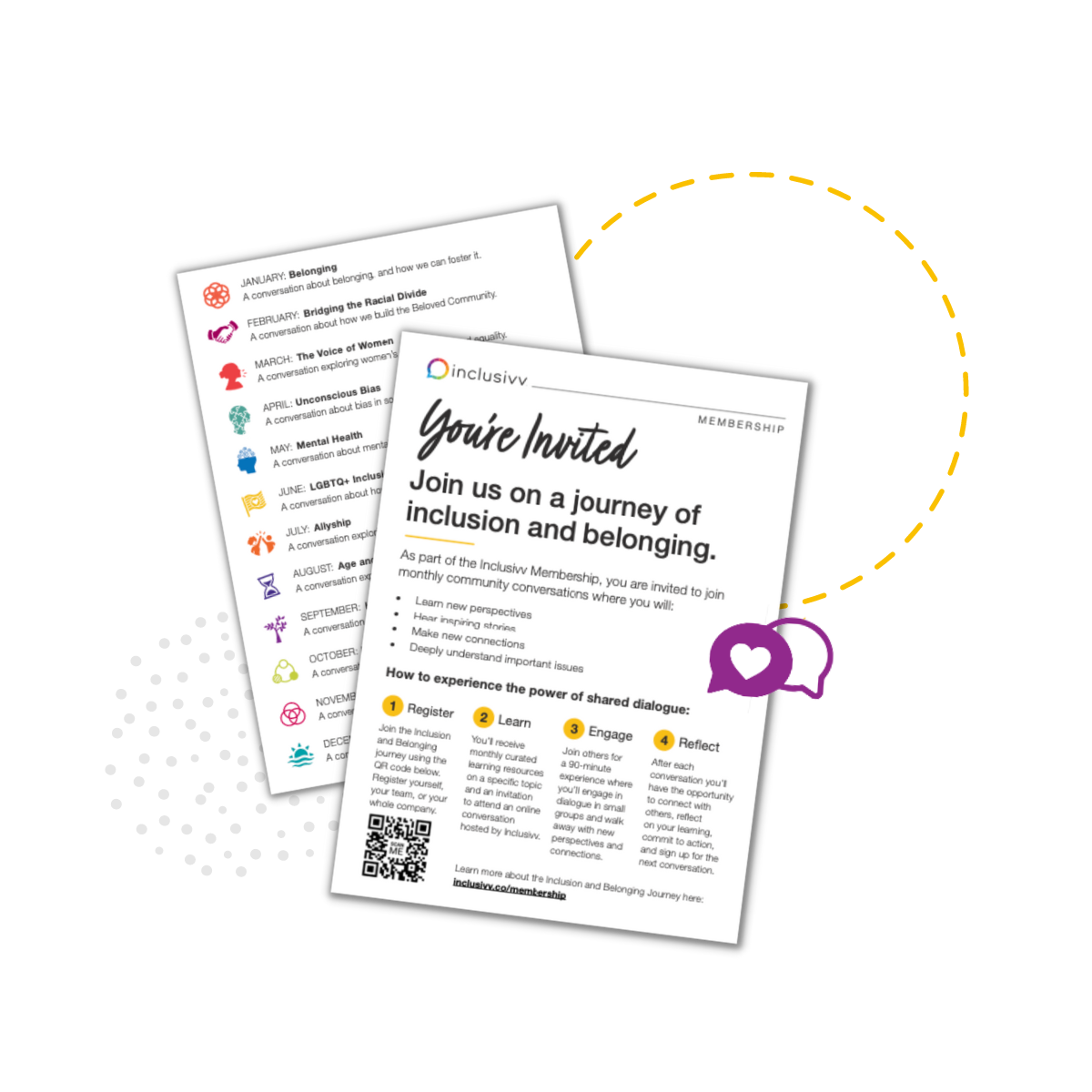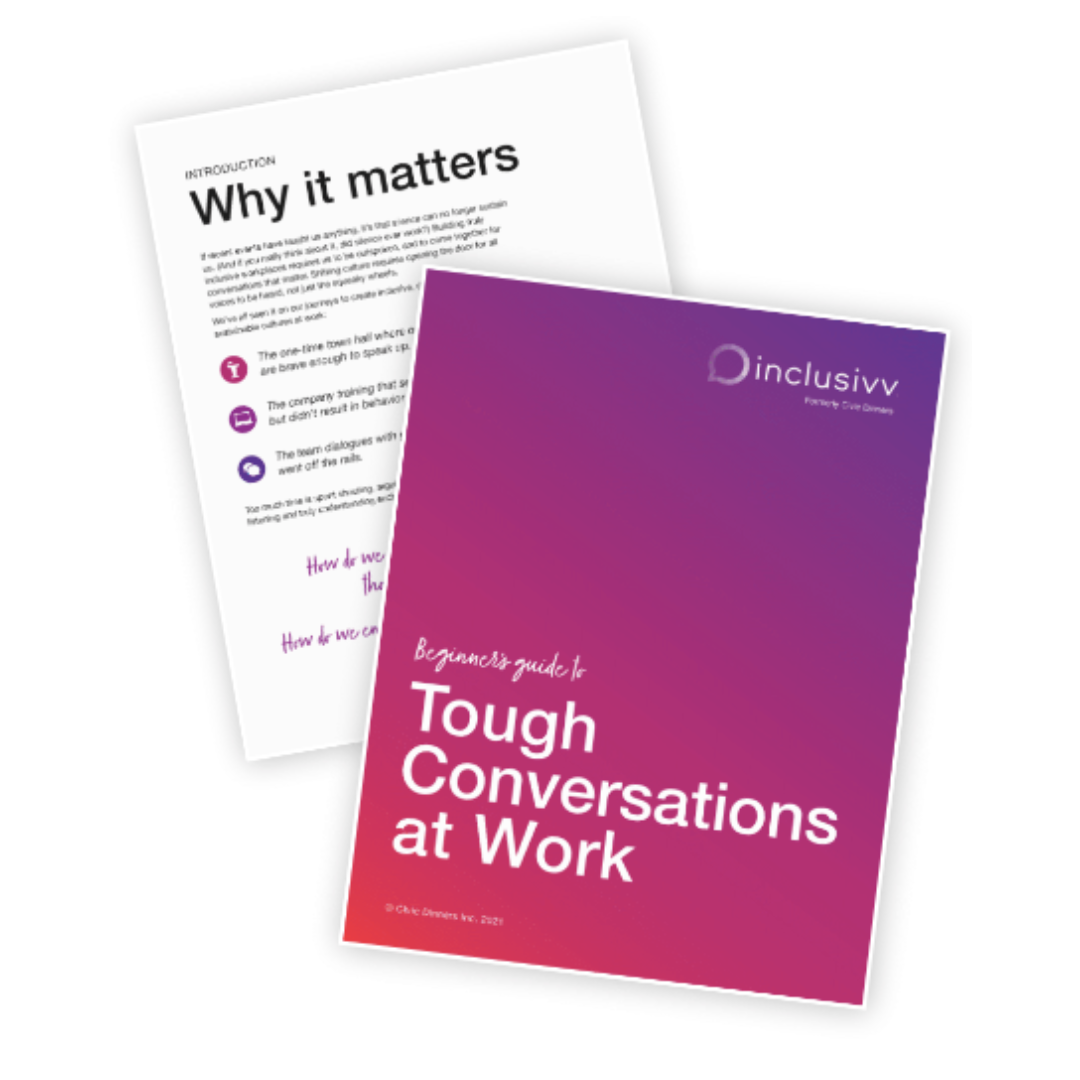 FREE DOWNLOAD
The Beginner's Guide to Courageous Conversations
Building truly inclusive workplaces requires us to come together for conversations that matter. Learn the essentials for how to create belonging through shared dialogue.
PRIVATE EXPERIENCE
Belonging Conversation
What you'll receive:
A transformative 90-minute online event for up to 300 participants
An expert host to facilitate your Belonging conversation
Messaging, tips and tools to encourage participation
Pre-conversation learning resources sent to all guests
Post-conversation ideas to connect, reflect and take action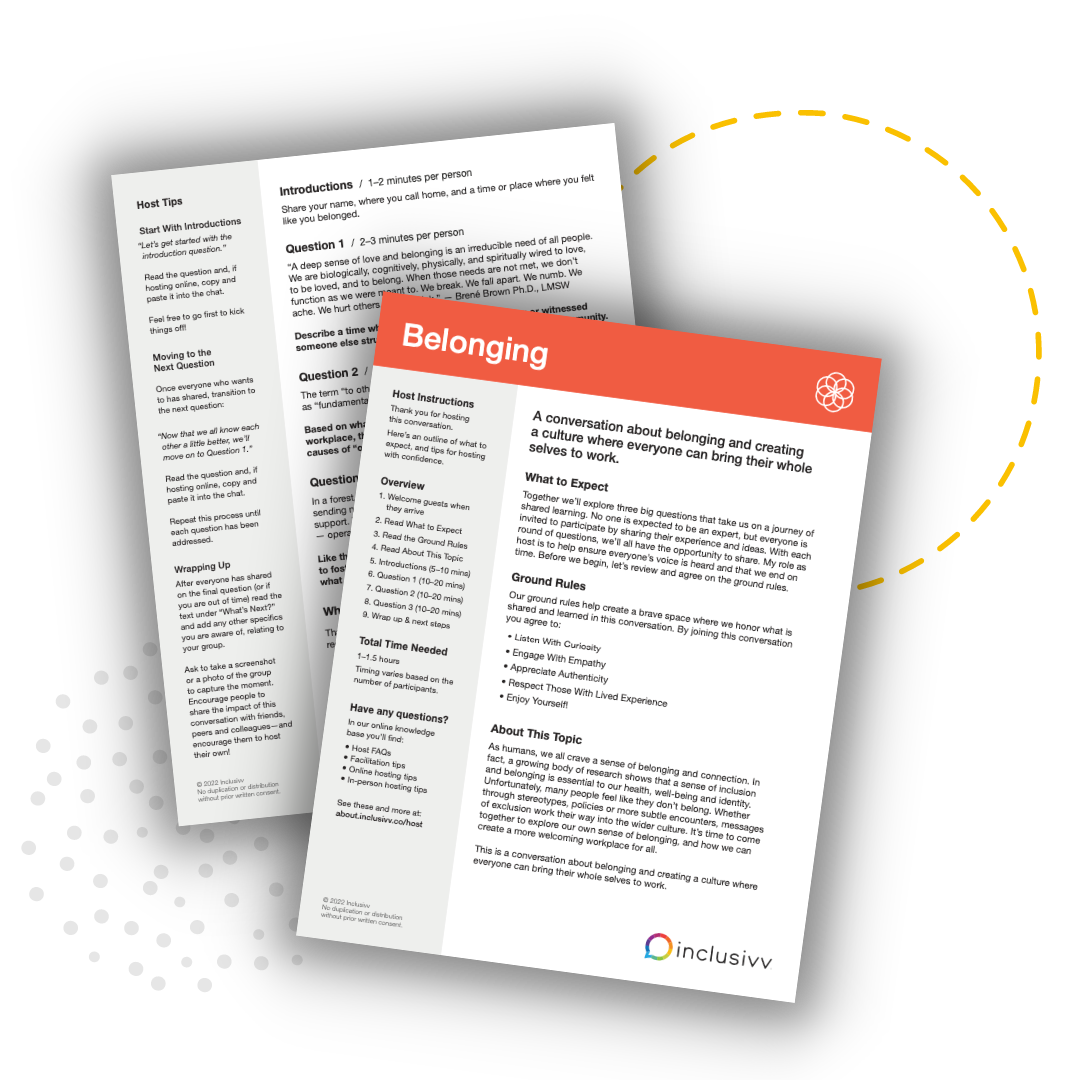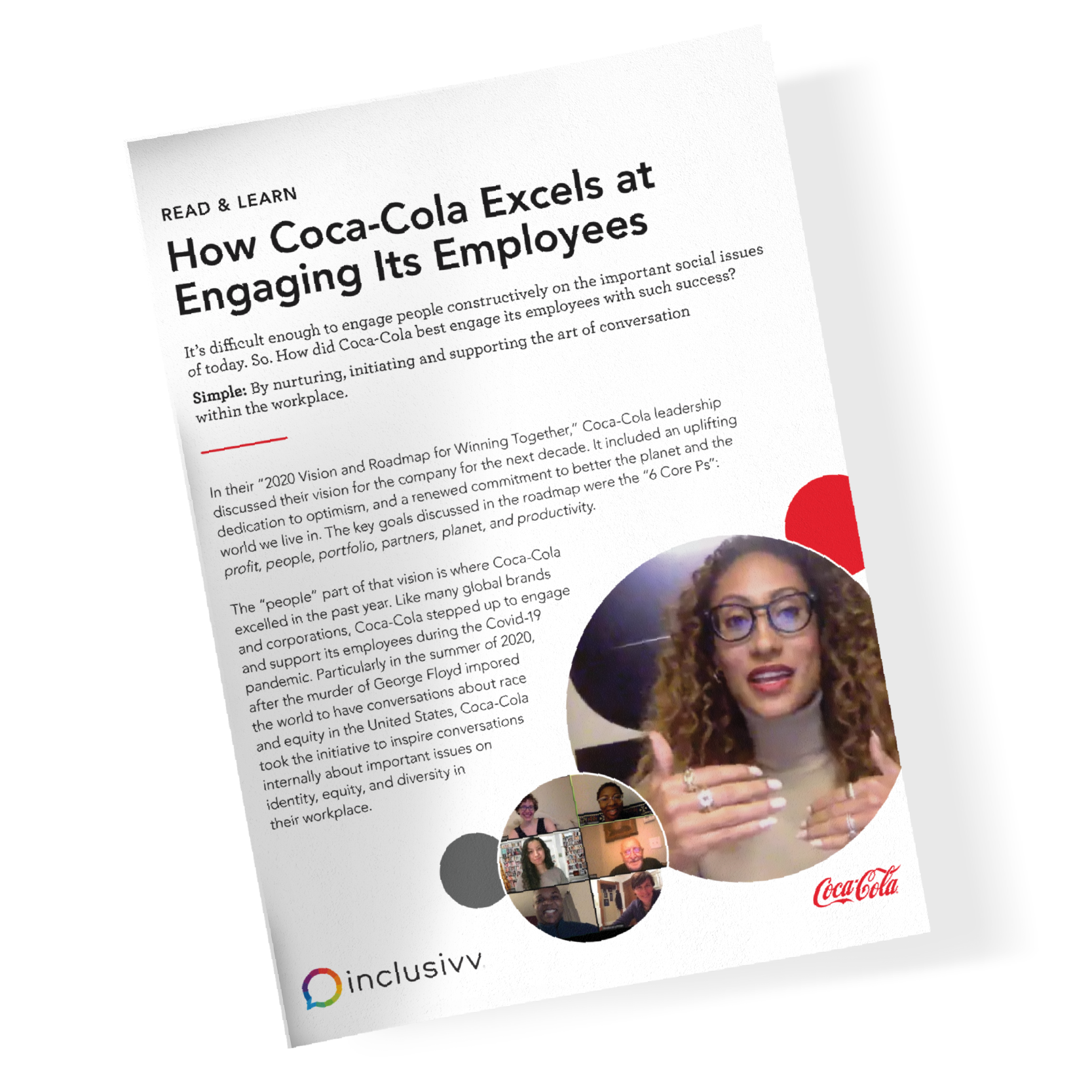 FREE DOWNLOAD
How Coca-Cola Excels at Engaging Its Employees
"Partnering with Inclusivv and bringing their experience allowed us to host an event for our own Coca-Cola associates that was both structured and allowed for vulnerability."
— Alex Ebanks Senior Manager, Brand & Business Communications, Coca-Cola
Stay up to date with Inclusivv
Be the first to know about trending topics, new series and special offerings, as well as monthly learnings, insights and thought leadership from Inclusivv.