It's time to be brave.
Hosting a conversation on a challenging topic can be uncomfortable. But with our host guides, we make it so easy to lead productive conversations.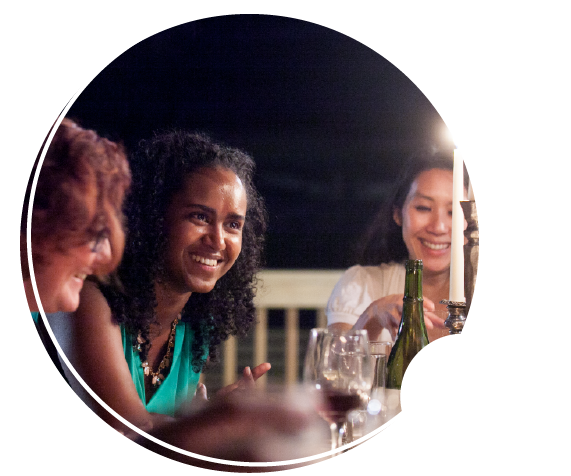 You've got this.
You're already curious about how to host, and that's half the battle. We'll give you everything you need to lead these conversations with confidence.
Inclusivv was built on the belief that conversations have the power to spark lasting change. That's why we've streamlined the process of hosting great conversations, structured to include every voice, giving you the tools you need to run a conversation with confidence.
As a host, you'll have an opportunity to foster dialogue on the issues you're passionate about. Take a moment to find a topic that resonates with you in our library of public conversations.
Once you find a topic you want to discuss, the rest of the process is a breeze.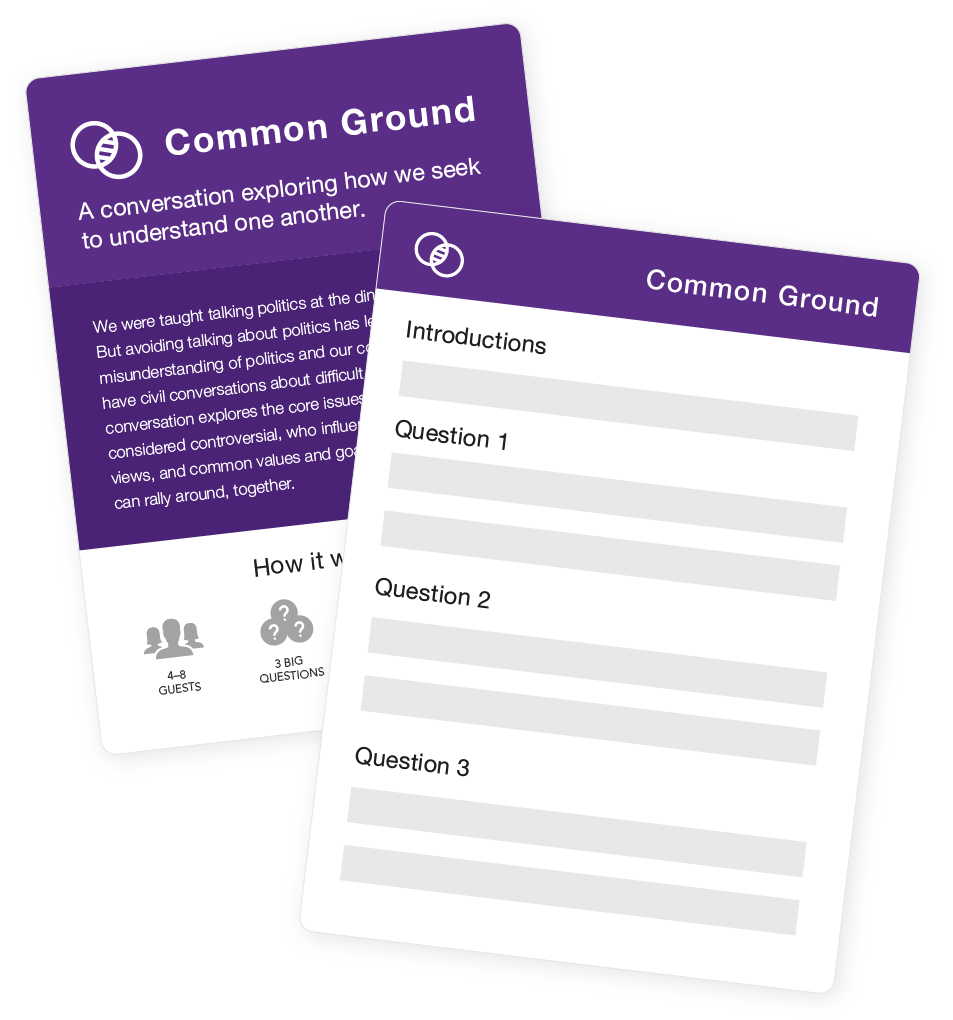 Host Guide
A detailed and easy-to-follow host guide that comes with three big questions for you to ask your guests

Email Reminders
Automatic reminders and follow-ups sent to your guests

Support
Facilitation tips and support
from our team
Don't take it from us! See what other hosts are saying:
I got my host guide. It told me exactly what to expect and how to do it. Everything from how to send out the invites to actually how to run the conversation, what questions to ask, how to keep everybody on track and make sure everyone got the chance to be heard during the conversation."
The overall platform takes a huge burden off of the host, because we don't have to be the expert, we don't have to know everything. It allows space to talk about stuff that matters to us or that we're curious about without all the pressure... Just do it. Give it a shot. It's not going to be a heavy lift for you. It's going to be so worth it, and you can change somebody's life."
What excites me is meeting new people, learning their stories and their backgrounds, just hearing people pour their hearts out on things that have shaped them to be the people that they are, spawn the way that they think, the way they do or don't interact with people."
Here's how to get started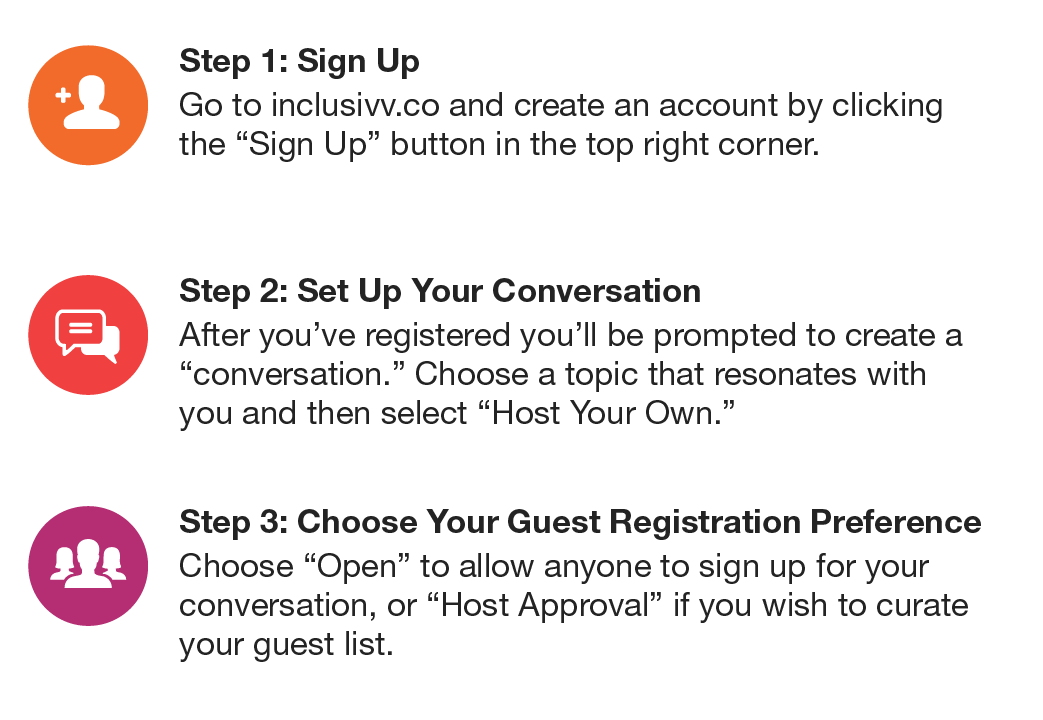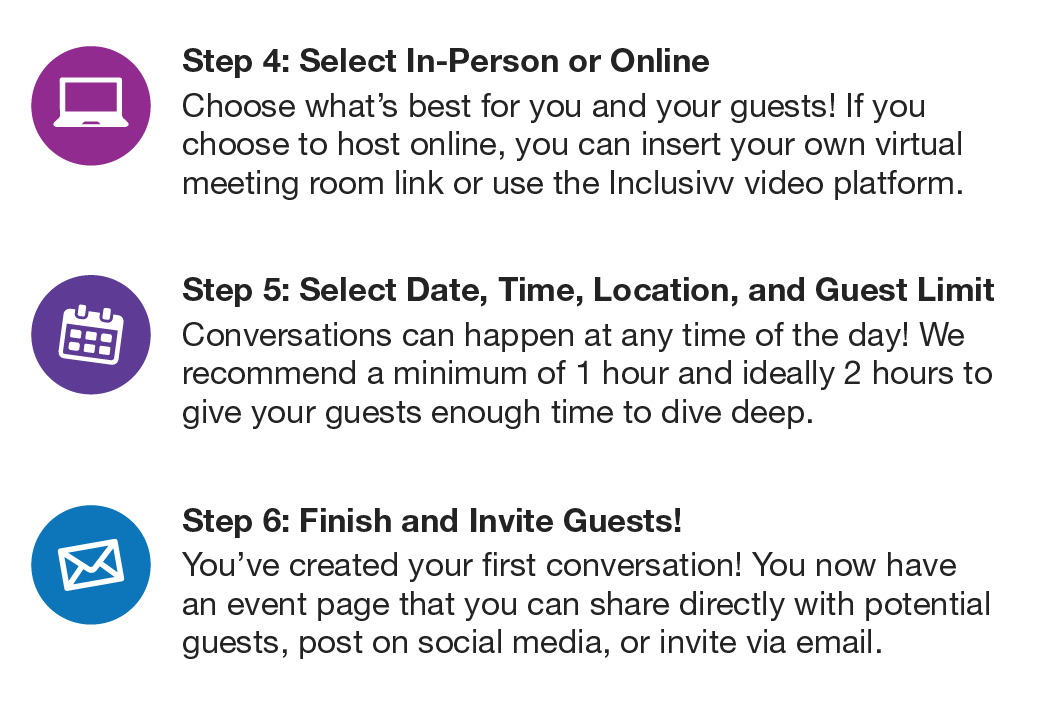 Wondering who you should invite to join your conversation?
Invite your book club

Your board

Your neighbors

Your family

Your close friend group

Or even an alumni group!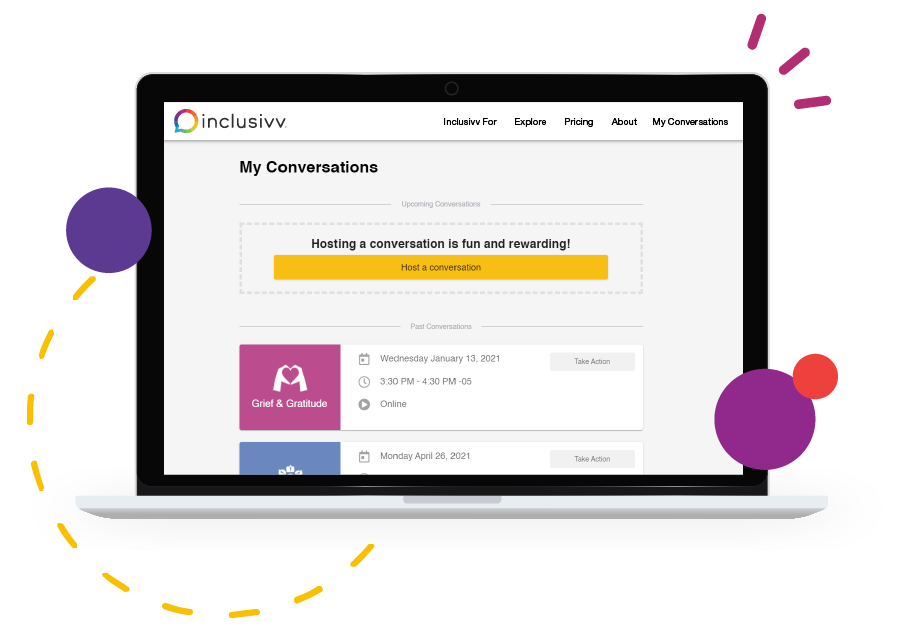 HOST RESOURCES
Quick Resources
for
Conversation Hosts
HOSTING FAQs
I've got the Host Guide, now what?
Awesome! You have the guide and you're ready to host. Here's the full scoop on what to expect when hosting.
LEARN MORE
HOSTING IN PERSON
Tips for Hosting In-Person Conversations
All you need to know about hosting in-person Inclusivv conversations.
Have any other questions?